THE EBOOK ~ TIGER COMBAT: TANDAO MARTIAL ARTS

Take your style beyond punching with new strategic principles for fighting efficiency.
Shaolin Animals and Bruce Lee's JKD form the basis of TanDao Tiger Combat.
Develop your powerful tiger claw strikes with hand/finger exercises, diagrams, photos, and an updated action stance for practical self defense.
Enhance your skills and find the thread that ties all martial arts together.
Available for download on your favorite reading devices: Kindle, Nook, iPad, iPhone/iPod Touch and computer.
Buy the book $9.99: http://www.smashwords.com/books/view/103237
__________________________________________________________________________________________________________________________________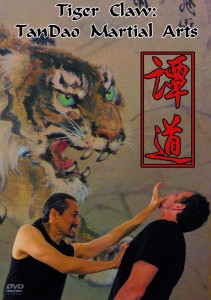 TIGER CLAW VIDEO DOWNLOAD
Fight like a tiger. Powerful. Graceful. Ferocious.
A practical fighting application for the tiger claw. TanDao TIGER self defense combines the best of Shaolin Animal Kung fu and Bruce Lee's JKD with core techniques, solo and two man tiger drills, and specialized hand exercises. Go beyond punching – – and take your martial skills and techniques to the next level.
Master Lawrence Tan has designed an updated and unique tiger style:
* Develop a fierce tiger claw deadlier than the fist.

* Learn the TanDao 3 in 1 tiger technique for extreme self defense.
* Adapt our powerful tiger claw fighting application to maximize your present style.
Get the martial edge!


TanDao Tiger Combat/36 minutes

Read customer reviews
Currently Unavailable.
_________________________________________________________________
---