admin on March 25th, 2013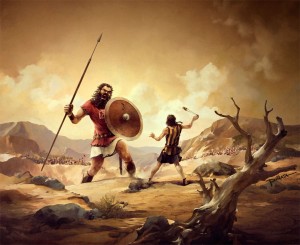 David and Goliath illustrates the classic martial arts encounter: size and strength vs. technique and strategy. In the valley of Elah, David, the young shepherd boy confronts Goliath, the feared giant Philistine warrior. David uses his sling shot to kill his towering foe. Through strategy, the small and smart can defeat the big and strong.
Strategy: Water Overcoming Stone
Like this biblical tale, the romanticized ideal of the old master, young fighter or female warrior overcoming the larger, stronger and more powerful opponent is the traditional appeal of kung fu and martial arts. Classical Shaolin and Daoist martial arts, taiji and bagua, use Lao Tzu and Sun Tzu's strategic idea of water overcoming stone as a martial art analogy for the weak defeating the strong.
Strategy: Surprise
When kung fu and karate were secret, superior strategy, the over all plan of engagement, could provide a smaller martial artist with a hidden advantage against a larger, stronger opponent unaware of higher martial knowledge. Although Goliath clad in armor, brandishing sword, spear and shield would vanquish any warrior face to face, David simply did not engage in his enemy's favored fighting range. The wily youth attacked from afar with a projectile weapon. Perfect kung fu strategy.
For self defense, devoid of rules, the key to overcoming size and strength is to be smart and strategic. It goes without saying that technical skills and physical fitness are prerequisites. Without the warrior's physical foundation, the scholar's mental strategy is useless.
Strategy: Deception
The source of all strategy is deception. Southern shaolin systems, for example, employ quick unexpected low kicks to the shins and knees to harass while using lightning hand strikes to the head and torso. Conventional fighters trained for defense against high kicks are often confused by this strategy. A grappler or wrestler can nullify powerful kick boxers by pretending to high punch then suddenly drop down to tackle the kick boxer to the ground. Conversely, a stand up fighter will deliberately lure a grappler to initiate a take down and suddenly intercept with close range forearm chops to the grappler's vulnerable neck.
Let's face it: the skilled bigger fighter will always have the edge over the skilled smaller fighter –- that is reality. But as David's triumph shows, while there are limits to physical skills, there are no limits to the mind. Learn strategy!
Evolving Martial Artists think outside the box – there are no rules to combat. We recommend reading Sun Tzu's Art of War, Miyamoto Musashi's Book of Five Rings and Carl von Clausewitz's On War –- classics on strategy.

Keep practicing and exploring,
Lawrence Tan
Tweet

Check out our Tiger Combat ebook





Tags: david and goliath, kung fu, master lawrence tan, self defense, strategy, tandao kung fu, tandao lawrence tan