TanDao on November 12th, 2013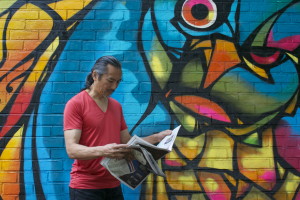 At TanDao, we usually present self defense techniques and tips to give you the martial edge in the street – the warrior movements. But Evolving Martial Artists are also part scholars, who think about the deeper meaning of martial arts and part monks, who seek to mindfully apply their power to everyday living.
Here are six questions that I pose in my Red Book, TanDao for Evolving Martial Artists
1. How do traditional and modern martial arts differ?
Evolving Martial Artists bridge traditional and modern ways.
The divergence of MMA from tradition has created very different definitions of martial arts. Modern styles are evolving the technical and fighting aspects but are incomplete. Tradition embraces philosophy, healing and meditation but the knowledge is fragmented and the teaching method is incompatible with today's mindset.
2. What are the universal principles underlying all styles?
Evolving Martial Artists explore comparative combat.
Karate, boxing, kung fu – all employ punches. Yet the reverse punch, right cross and vertical punch use different body mechanics. Only by probing deeper into stylistic distinctions will we discover techniques, strategies and tactics common to all methods.
3. What is true mastery?
Evolving Martial Artists aspire to authentic mastery.
With the glut of masters the world over, the title "master" is almost a meaningless cliche. We must reconnect to the deeper spirit beyond the pop view. The authentic master is a holistic ideal that embraces intellectual, moral and spiritual qualities that go beyond physical prowess.
4. Are there hidden "secrets"?
Evolving Martial Artists seek the secrets.
The hallmark of traditional martial arts is secrecy. Some say this is a myth. With the advent of internet, blogs, videos and articles on virtually any technique, master or system is available. But "secrets" do exist since each generation only a few were taught the esoteric transmission.
 5. Is the key to power qi or biomechanics?
Evolving Martial Artists integrate science and intuitive wisdom.
The use of modern scientific disciplines like biomechanics, physiology , psychology and anatomy help us grasp the often mystical and obscure notion of qi or life force energy. Yet the Chinese intuitive model of qi power defies our rational world view.
6. Is a martial art a spiritual path?
Evolving Martial Artists seek the unknown realms.
Although phrases like mind, body spirit are common in describing martial arts, the intellectual and spiritual are not addressed with any depth or systematic teachings. Today's martial arts focus on sport and defense. That said, there is still a hidden connection to ancient wisdom traditions waiting to be discovered.
These questions are underlying themes that complement our self defense studies.
What do you think? Is there any validity or are these questions irrelevant to kicking ass? Please tell us your views.
Keep practicing and exploring,
Lawrence Tan
PS — And if you miss the warrior tips, check out this week's newsletter which discusses a secret training method for effective power striking, used by both karate legend Mas Oyama and Bruce Lee.